Our know-how
Atlantic Modelage Composite can now justifiably claim to have true expertise in the manufacture of composite moulds. We control the processes from A to Z. Using digital files of parts or moulds provided by our customers, we can propose turnkey tooling via our methods, machining, finishing and moulds departments.
The profession of tool-mould maker or laminator-mould maker consists in designing, manufacturing and/or repairing moulds, to reproduce a part made from thermosetting composite materials in large or small series. This profession requires various skills such as knowledge of composite materials and modelling.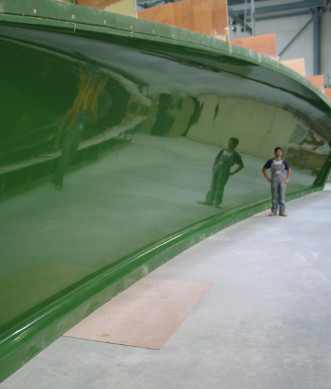 A mould is manufactured in several steps:
Designing the mould.
From a 2D or 3D drawing, our manufacturing/engineering, design and technical department produces all the drawings and files required to create a model (die or punch) or a direct mould (addition of part overlengths, peripheral demoulding or infusion flanges, etc.).

Creating the model.
Using the data provided by the design and technical department, we produce the model, by machining and/or traditional modelling of the part to be reproduced, with all the peripherals required to mould it (inserts, blowing or injection nozzle). The model is then primed and worked to obtain the finish requested by the customer.


Laminating the mould on the model.
Our laminators cover the entire model by spraying or drape forming, to recreate a moulding skin, the exact negative of the model.

Structuring the mould.
To guarantee the mould geometry, we apply a steel or wood frame over the entire moulding skin to stiffen the structure. If requested by the customer, our moulds can be fitted with all the peripherals required for handling (lifting rings, wheels, etc.).

Demoulding.
The last steps consist in demoulding, followed by finishing and cleaning before delivery of the mould.
We can also provide machining and 3D digitising services.

Relying on our wide-ranging expertise and knowledge of composite materials (polyester and epoxy), we can also produce single technical parts.